Although being part of the South American country of Chile, it feels like you could be a world away. Easter Island is over 3700km to the west of Chile, in the Pacific Ocean. Dotted with the most intriguing statues on the planet – the striking moai – Easter Island (Rapa Nui to its native Polynesian inhabitants) exudes a mysterious, enigmatic energy. We spent just over a week here (we think its a perfect amount of time) and did some Easter Island Tours, all of which were really impressive. Even though Easter Island is world famous and visitors are on the rise, everything has stayed small and personable. Easter Island Tours are all about ecotravel. Which here at Two Lost Feet we love!
But Easter Island is a lot more than just an open-air museum with a few stone statues spread across the island. Snorkelling, Surfing and Diving are truly spectacular. On land, you can experience the island's raw beauty by hiking, from a bicycle or even on horseback. But if the only thing you want to do is chill out, there is a couple of the nicest beaches in the world to find. Read on to discover our 7 favourite Easter Island Tours.
4 Day Easter Island Tours
If you are lucky enough to have 4 days or more on Easter Island as we did, this is the best tour you could possibly ask for! The team at Signature Tours really know their stuff. The tour comes with a guide that is bilingual and very knowledgable about Easter Island. At the airport, guests are greeted with a true polynesian welcome!
During the 4 Day Easter Island Tours, you will see all the main highlights of the Island. This includes places like Ahu Tongariki where you will see 15 Moai including the largest on the island. Day two includes a visit to arguably the best beach on Easter Island, Anakena Beach. The Moai statues are the 4 Day Easter Island Tours highlight, but you'll also be able to see the bird-man paintings in the Ana Kai Tangata cave and the Rano Raraku volcano. After each busy day of exploring, you will be transferred to your 4-star hotel in Hanga Roa.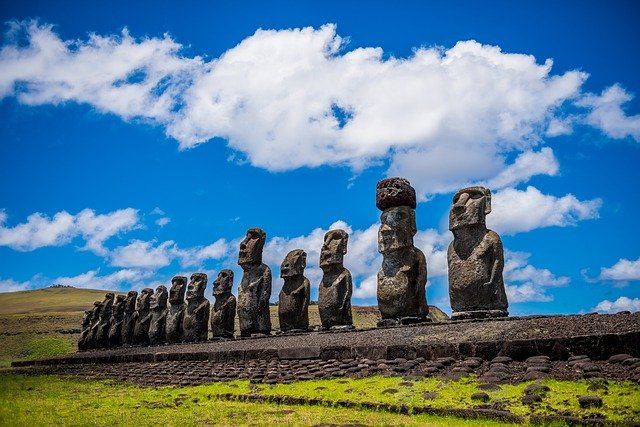 Easter Island Tours - Discover the mystery of the Birdman Cult
Visit the incredible ceremonial site of Ahu Vinapu and see some of the best masonry in the world. From here continue north to Puna Puna to see many kinds of representations of moai statues. You'll be able to discover the distinctive red knots above their heads. These are made from an igneous rock with a vibrant red color.
Next, take some time to admire the impressive moai statues of Ahu A'kivi, an ahu (platform) of 5 metre sculptures that stare solemnly to the ocean. Here, the sea-facing direction of the sculptures has puzzled archaeologists for many years. This is because all of the other moai face inwards.
You'll also have the chance to gaze at the beatiful Rano Kau volcano crater. Here you can learn about the mythical Birdman legend at the O'rongo ceremonial village. At O'rongo there is roughly 40 round shaped homes built in the cliff. They feature a small square entry overlooking the ocean. I was in awe at how the islands best warriors could fit in them!
Finally, on return to your accomodation in Hanga Roa, you will visit Tahai. Tahai includes three main sets of moai from north to south: Ko Te Riku (with eyes that have been restored), Tahai and Vai Ure.
Easter Island: Traditional Rapa Nui Cooking and Show
Enjoy a night out with spectacular food and dance! You will be taken to a beautiful restaurant to spend the evening. Begin with a starter and welcome beverage as you are invited to take part in the "Takona" art. This is an Easter Island tradition that involves painting part of the face in the old ways of the island.
Afterwards, learn about tradition of the Umu Pae cooking culture. You can expect to receive a lecture and then watch a meal being cooked in the Umu Pae style. Settle in for a Rapa Nui show, blending a wonderful mix of ancient and traditional dance.
If you choose to include dinner (you should!), you'll be guided to a where a meal is prepared in the traditional Umu Pae way. Enjoy a tantalising and enormous selection of food including chicken, vegetables, sausages, yuca, potatoes, and much more.
Easter Island Tours - Day trip to Anakena Beach
Take a trip to experience the beautiful beach of Anakena. Anakena Beach is said to be the first landing point of Polynesian chief Hotu Matu'a.
The journey begins in Hanga Roa where you will be picked up in a private vehicle. Then you go discover the north and southeastern coasts of the island. Take some time to admire Ahu Tongariki and Ahu Akahanga. Ahu Tongariki is the most impressive of all moai as it showcases 15 restored statues.
It may be hard to leave Ahu Tongariki, but there is more to see! Next stop is Rano Raraku, a volcano crater; see its "Cantera de los Moais," where there is believed to be 390 figures. Lunch is provided is a beautiful setting.
Next stop is at Anakena Beach, known by locals to be the most impressive beach on the island. enjoy peering into some small caves within a gorge and the nearby beaches of Poike and Ovahe where you can enjoy the afternoon to relax. After a busy day you will be dropped off in Hanga Roa
Small-Group South & East Highlights
Discover Rapa Nui's most impressive Moai statues on this small-group tour catered for up to 8 travelers. Explore the most impressive remnants of the Easter Island Culture, from the towering moai on the island's eastern edge to the fallen statues of the southwest. You will learn about the island from knowledgeable guides, exploring what is currently known, and what remains still a mystery about Easter Island.
Beginning this tour you will visit Vinapu. Here you will find the most perfectly fit rock wall, Ahu Tahira. Learn how it was constructed with such perfection that some archaeologists believe they had contact with the Incas of South America. Next, journey to the coastal area of Hanga Poukura. Hanga Poukura is full of intriguing lava formations and unique geological features. The blowhole of Hanga Poukura is one of the best ones of Rapa Nui, and there is enough swell, water will shoot up into the air!
Afterwards, explore the small village of Vaihu. Learn what it was like to live on Easter Island as you discover a replica of an ancient village. Visit Akahanga, which was believed to be one of the largest settlements on Easter Island. After take a break for lunch and head to Rano Raraku. This is the volcano that was turned into a mass big factory to make the huge statues. You will be in awe to learn how all statues were created here. You will notice many projects were left unfinished here. Finally, discover Ahu Tongariki, the largest and most impressive set of moai on Rapa Nui which includes 15 gigantic megaliths.
Small-Group North & West Highlights
This tour is also designed for only 8 people or less. You will be immersed in the culture of Easter Island and learn of the history and folklore of one of the world's most remote islands. This Easter Island tours will take you to some of the islands best highlights.
First stop is the lovely Anakena Beach, this is where the beginning of the Easter Island story begun. On Anakena Beach lies a monument with some of the best preserved Moais of the whole island. Here the focus is on the archaeological and historical aspect of region. Then, journey to Te Pito Kura and marvel at the largest statue that ever stood upon an ahu platform. This big guy is almost 10 m tall! You will be able to visit Puna Pau, where the topknots adorning some of the moai were made in a quarry. Also see Ahu Akivi, the only monument of statues that gazes out towards the ocean.
Take some time out for lunch and have a free snack. Or, if you prefer; visit one of the nearby restaurants for a meal. After lunch, continue the Easter Island tour to Tahai, a small community known for its hard-working tribesmen. Venture on to the Rano Kau crater which hosts one of the most incredible views of Easter Island. Finally, take a look at Orongo, a ceremonial stone community dedicated to the bizarre Birdman competition. It sits atop the ridge of the volcano Rano Kau.The views here are just astounding.
Highlights of Easter Island Private Tour
Discover the most important Easter Island archaeological sites near the Rano Kau volcano crater. Learn all about the famous Birdman cult at the O'rongo ceremonial village. Continue on to Ahu Akivi, a site that was officially restored in 1960. These statues have been designed to face the setting sun to the west. Next, enjoy Ahu Tongariki, boasting 15 impressive Moai. Afterwards head to Raro Raraku, where the moai were built.
To end the tour, visit the mesmerising turquoise water of Anakena Beach. The best thing about this tour is that it is flexible. Take your time at any place you prefer.
Like This Article? Pin It!